Business & Team
Your eversign account can hold multiple businesses, each carrying a different set of team members, contacts, templates, documents and settings. A common use of multiple businesses is opening one business as a private way of signing and managing documents, and another for business purposes. This article intends to give you a brief overview about how to manage your business(es) and team members.
Add Business
In order to add a new business, please navigate to the top left dropdown menu (carrying your business name) and choose "Exit Business". You will the be redirected to a page where all of your eversign businesses are listed. Click "Add Business" in order to set up an additional business.
Business Name: Your Business Name will be used to refer to your business throughout your eversign account. It will also be displayed to the signers of your document, on outgoing emails and notifications. If this business is not representing a company, simply choose "I'm an individual" and our systems will automatically take your first and last name instead.


Vanity URL: Your Vanity URL is the URL signers will be able to access your documents through. For instance, if your business is called "My Company, Inc.", you can choose "mycompany" as your Vanity URL, resulting in "mycompany.eversign.com".
In order to complete the creation of your new business, click "Save Business" and you will be redirected to the Dashboard page.
Primary Business
Each eversign account comes with a primary business, which - if not specified otherwise - is usually the first business you've created on your account. Your primary business can be changed by logging out of your current business and clicking on the yellow star icon right next to the business you would like to make your primary business.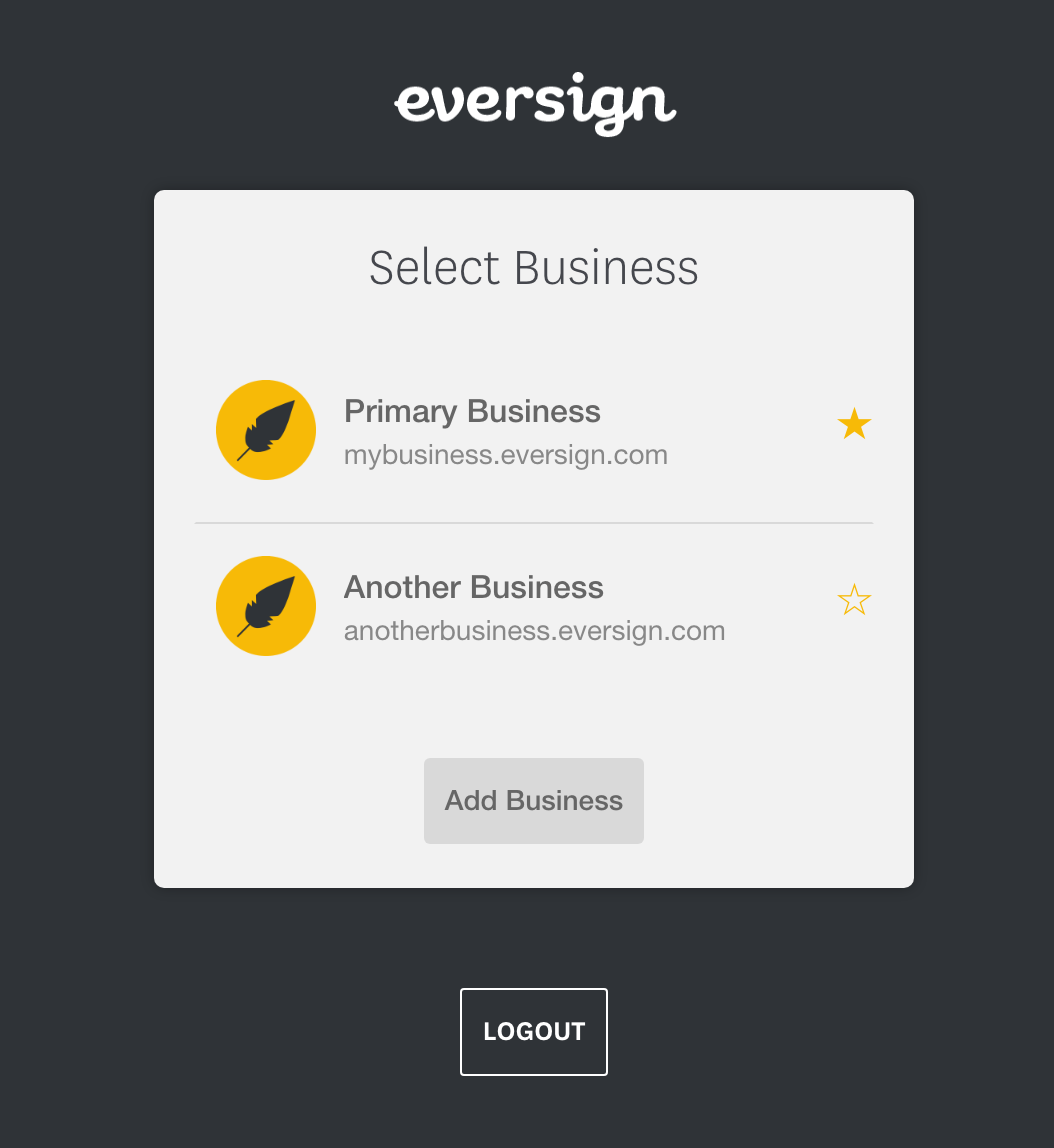 Switch Business
In order to log out of your current business and log into another business, please choose "Exit" business from the top left dropdown menu (carrying your current business name). You will then be redirected to a page where all of your existing eversign businesses are listed. Click on the one you would like to log into.
Delete Business
In order to delete a business, please follow the steps below:
Log in to the business you would like to delete
Navigate to Business Settings
Click the "Delete ..." button at the top right and confirm your deletion
Your eversign account Please note that the "Cancel Account" button available on the Account page will delete your entire eversign account, including all busineses. Please do not confuse this option with the Delete Business option described above.
Invite Team Members
Each of your eversign businesses can hold individual team members. In order to invite a team member, navigate to the Team page (using the lefthand "Team" button) and click the top right "New Team Member" button. On the New Team Member page you will be able to enter your team member's email address and assign them a role:
Super Admin: Comes with all business-level permissions, except for deleting the business. Business Super Admins cannot make any changes to your eversign account, only to your business.


Manager: Managers can view, create, edit and use all business documents and templates, and cancel ongoing documents. Managers cannot delete global documents or templates.


Staff: Staff members can create, edit and cancel their own documents. They can also use global templates.


Read-Only: Read-Only members can view all business documents and templates.
After your team member has been saved an invitation email carrying log-in instructions will be sent to their email address on file.
Team members per business Please note that team members cannot be added to multiple businesses at once. If you are looking to give a team member access to multiple businesses, you will be required to invite them once from each of your businesses. A team member who can access two of your businesses will occupy 2 open spots on your account's number of available team members.
Business Branding
Your eversign account and outgoing email can be adjusted to fit your company's branding. Navigate to Business Settings > Branding in order to adjust the following branding settings:
Icon: This will primarily be used within your control panel. You will also notice that your icon appears on embedded signing pages, e.g. the In-Person Signing page where signers are asked to enter their name and email address in order to be allowed to sign a document in-person.


Logo: Your logo will be used primarily in your conrol panel and in log-in screens.


Email Logo: Your email logo will be used for the header section of outgoing emails.


Colors: On the Colors page you will be able to adjust the colors of your eversign control panel. The "Primary Button Color" is the color of the public "Sign" button displayed when signers are signing one of your documents.