Create Document
Quick Tutorial
Here's a quick video tutorial giving an overview about how to create and send a document.
The first step to creating a new document is clicking the "+" button that appears when hovering your cursor over the lefthand Documents link. If you are currently on the Dashboard page, you can also choose "Sign" from the top right Quick Actions menu.
Once you have been redirected to the New Document page, there is a number of options you can set for your document and signing process. These options are discussed throughout the sections below.
Me Only, Me & Others, Others Only
At the very top of the New Document page you will notice 3 different document types: Me Only, Me & Others and Others Only. Your selection depends on who this document's signers are.
Me Only: Choose this option if you are the only signer of this document. This document type is ideal whenever you need to quickly sign a document yourself.
Me & Others: Choose this option if this document requires multiple signers, including yourself.
Others Only: Choose this option if only others are signing this document.
Quick Sign & Quick Send Learn more
At the top of the page you will see either a "Quick Sign" or a "Quick Send" button, depending on which document type you choose. These modes allow you to skip an intermediate step, the document editor (placing signature and input fields), and sign or send the document right away.
File Upload
Right below the three Document Type buttons you will see the file section, where you can either choose a file from your computer (using the button or drag-and-drop) or connect to a third-party cloud service in order to upload your document.
Documents can be uploaded in the following formats:
.pdf (PDF Document)
.docx (Word Document)
.txt (Text Documents)
.png (Image)
.jpg (Image)
.ppt (PowerPoint)
Multiple Files You can also upload multiple files and change their order using the drag handles at the top left of each uploaded file's box. Our systems will automatically merge your documents into one PDF at the end of your signing process.
Use Template: At the top right of the file upload section you will see a "Template" button. Clicking this button will let you choose one of your templates in order to create a document based on this template.
Cloud Integrations
You can choose to upload your eversign document directly from one of the supported cloud-storage applications. The following cloud integrations are being offered:
Dropbox
Box
OneDrive
Evernote
Google Drive
Google Mail
Cloud Drive
Signers & CCs
Depending on which Document Type (Me Only, Me & Others, Others Only) you choose, you can enter two different types of recipients for your document: Signers and CCs. Each contact requires a full name and email address and can be assigned their role using the dropdown menu on the right side of the contact line.
As you start typing a contact's name or email address, eversign will show an autocomplete box carrying suggestions. Click on a suggestion in order to automatically fill in the details for this contact.
Save Contacts: At the bottom right of the contacts section you will see a checkbox named "Save Contacts". If this option is checked, any contacts that are new to your eversign business will be added to your contacts list.
Signing Order
When working with multiple signers there will be a "Signing Order" checkbox at the top right of the contacts section. If enabled, you can adjust the signing order of your document's signers by dragging them up or down using the handle on the left side of each signer row.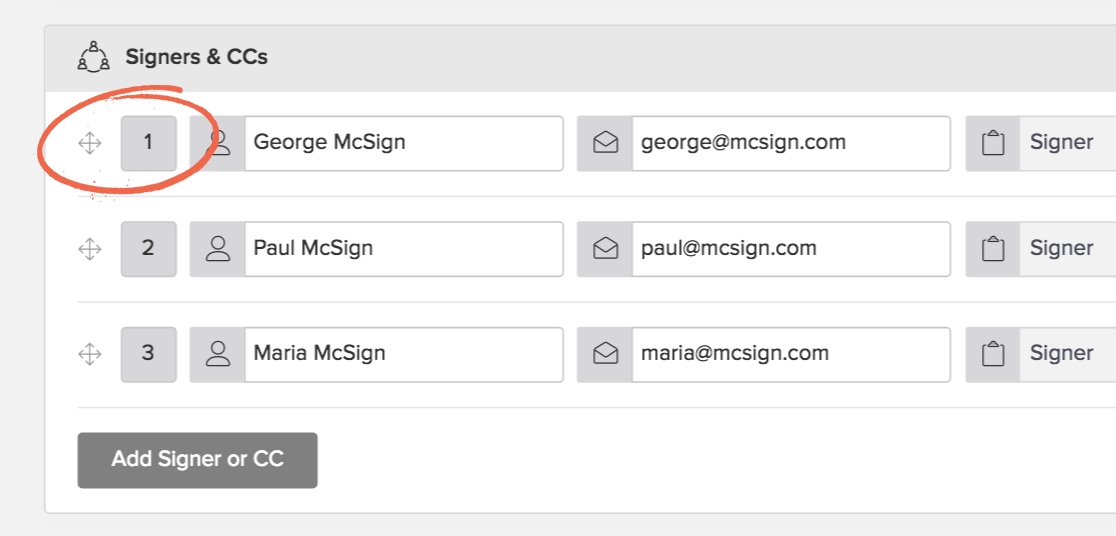 Signer PIN
As an additional safeguard ensuring the authenticity of your signers you can assign each signer a PIN, which they are required to enter before being able to start signing your document. Here is a quick summary about how to set up a Signer PIN for your signers:
Document Settings
At the bottom of the New Document page you will find a section called Document Settings, carrying custom options that only apply to the current document being created:
Enable auto reminders: Enable automatic reminder emails for this document. By navigating to Business Settings > Expiration & Reminders you will be able to set the schedules for automatic reminders.
Require all signers to sign to complete document: If this option is enabled, all signer must sign this document in order to complete it. If at least one signer declines to sign, this document will be cancelled.
Expire Document After: Using this option a custom time period can be specified after which this document will expire. Completed documents cannot expire. By choosing "Choose Date" from the dropdown menu you will be able to specify an expiration date.
Quick Send

Whenever there is little time for carefully preparing a document for your signers, the Quick Send option can be used to skip the Document Editor and send a document right away. By Quick Sending a document you agree that eversign will automatically attach an additional page to your document containing date and signature fields for each signer specified.