Create Template
Quick Tutorial
Here's a quick video tutorial giving an overview about how to set up a template.
The first step to creating a new document is clicking the "+" button that appears when hovering your cursor over the lefthand Templates link. If you are currently on the Dashboard page, you can also choose "New Template" from the top right Quick Actions menu.
Once you have been redirected to the New Template page, there is a number of options you can set for your template. These options are discussed throughout the sections below.
Templates, Template Links
There are two template types you can choose from: Template and Template Link:
Template: A standard Template offers exactly what you would expect from a template document. Upload a document file, define roles (or even pre-fill them), place signature fields and then use the same document over and over for as many different real signers as you prefer.


Template Links: A Template Link is somewhat different in its functionalities. Template Links can only contain one signer at a time and come with a link that can be delivered by email. Anyone clicking this link and entering their name and email address will be able to sign the document behind your Template Link. This type of template is ideal for waivers or Non-Disclosure Agreements.
How to use Template Links
A great and commonly practiced use case for Template Links is having clients sign registration forms directly at your store or counter. In order for this to work, we've created a feature called In-Person Signing, which enables you to have signers sign your template document directly on your device without the need of email address verification.
Click here
to learn more about In-Person Signing.
File Upload
Right below the two template types you will see the file section, where you can either choose a file from your computer (using the button or drag-and-drop) or connect to a third-party cloud service in order to upload your document.
Documents can be uploaded in the following formats:
.pdf (PDF Document)
.docx (Word Document)
.txt (Text Documents)
.png (Image)
.jpg (Image)
.ppt (PowerPoint)
Multiple Files You can also upload multiple files and change their order using the drag handles at the top left of each uploaded file's box. Our systems will automatically merge your documents into one PDF at the end of your signing process.
Cloud Integrations
You can choose to upload your eversign document file directly from one of the supported cloud-storage applications. The following cloud integrations are being offered:
Dropbox
Box
OneDrive
Evernote
Google Drive
Google Mail
Cloud Drive
Roles
Provided you are creating a standard Template, you can add multiple signer and CC roles that are filled whenever you are looking to have your template document signed. Each role requires a name.
Pre-fill Roles: As you can see on the image below, roles can also be pre-filled. In this particular use case, a Sales Offer template is created with two signer roles: Sales Rep and Client. In addition to these, a CC role is defined and pre-filled using the Financial Department's details. Whenever this template is used, the company's Finance team will receive a copy of the Sales Offer being sent. The Client and Sales Rep roles, on the other hand, are variable.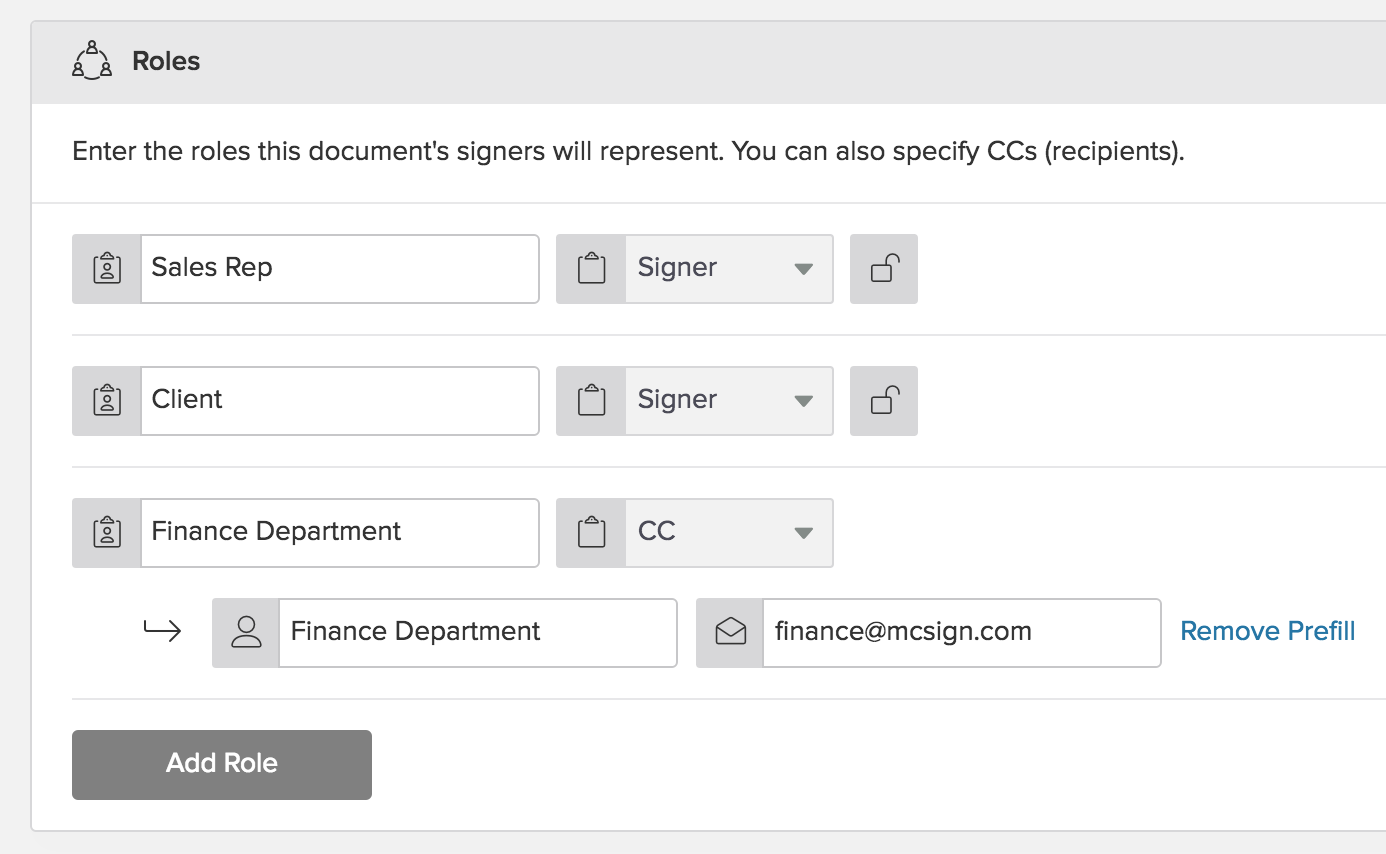 Template Link Role When working with Template Links, only one role can be defined.
Signing Order
When working with multiple signer roles there will be a "Signing Order" checkbox at the top right of the contacts section. If enabled, you can adjust the signing order of your template's signers by dragging them up or down using the handle on the left side of each signer row.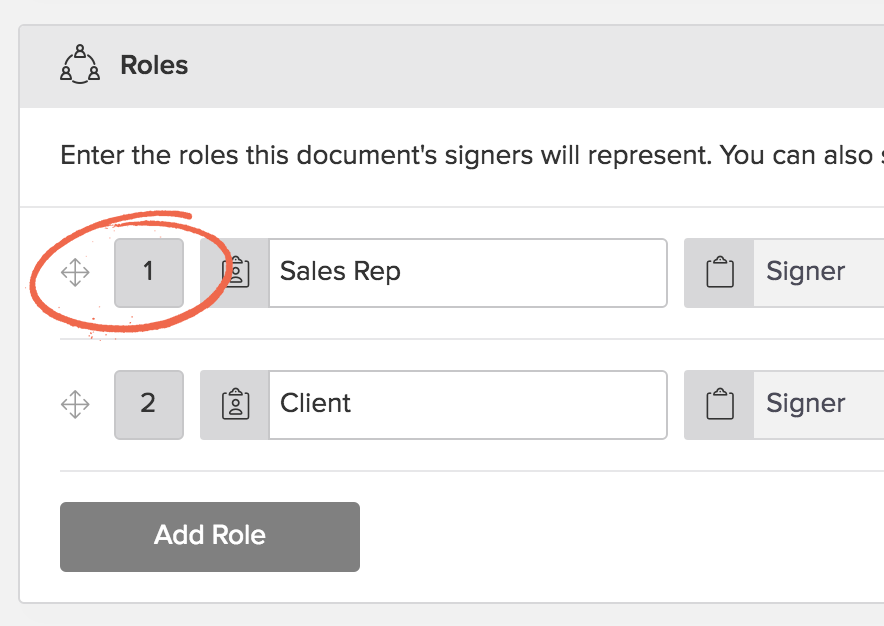 Signer PIN
As an additional safeguard ensuring the authenticity of your signers you can assign each signer role a PIN, which they are required to enter before being able to start signing your document. A Signer PIN is added by clicking the lock icon next to a signer role.
Here is a quick summary about how to set up a Signer PIN for your signers:
If you do not choose to add Signer PIN when creating your template, you will still be able to assign each signer a Signer PIN manually whenever you send your template document for signature.
Template Settings
At the bottom of the New Template page you will see a Template Settings section carrying different custom settings you can specify for the current template, such as:
Make this template available to Staff members: If this option is enabled, the template you are creating (or editing) will become available for use to all members on your team.
Prevent Staff members from modifying this template: If this option is enabled, members of your team that have "Staff" permission will not be able to modify the layout of the template you are creating (or editing). It is only available if above setting is turned on.
Template Permissions Templates that are available to all team members are referred to as "Global Templates", while templates that are only available to a specific user are called "Own Templates".
Merge Fields
When preparing templates of any type in the document editor, fields can be declared merge fields by selecting "Filled By Me (Before Sending)" from the top "Filled By ..." menu, which appears when an eligible field is selected.
Merge fields are fields that are filled individually whenever a template document is sent to signers. A merge field can be a "Offer Price" input that is filled by the Sales Representative when they send out a Sales Quote. Merge fields are filled on the same page signer names and email addresses are entered.